Stainless Steel 2″ Xtreme-Flow Manifolds
Max. flow rate: 75 GPM Trunk, 4.9 GPM per circuit
Max. temperature: 194 °F
Max. pressure: 145 Psi
Included are:
Manifold with mounting brackets
2 x Air vents and drains
2 x 2" End caps
Blue and red circuit valves
2 x 2″ G x SWEAT adapters
½ ", ⅝", ¾ " Compression adapters sold separately
Versatile installation
Horizontal or vertical mounted, the air vents are always functional.
Rhella X-treme flow manifolds offer true 2-1/2″ unrestricted flow through the Supply-Trunks-Return path.
Air Vents and Drains
Every Rhella X-treme Flow manifold comes with built in automatic air vents and drains.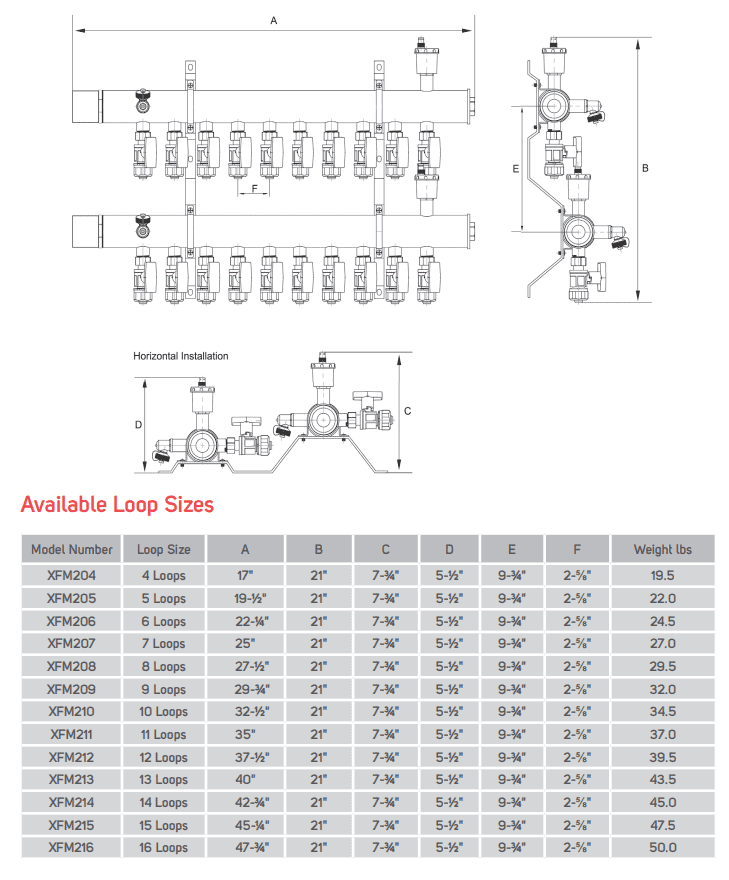 | | |
| --- | --- |
| Type | XFM 2" Manifold |
| Material | SEA 304 Stainless Steel |
| Warranty | 5 Years |
| Loop Count | 4 to 16 Loops |
| Trunk Diameter | 2-1/2" |
| Wall Thickness | 3 mm |
| PEX Size | ½ " , ⅝ , ¾ " |
| Trunk Thread | DN 50, 2" G |
| Loop Thread | 20 mm |
| Application | Radiant Heating |
| Fitting System | PEX Compression |
| Tubing | PEX |
| Test Pressure | 145 Psi |
| Max. Flow Rate (trunk) | 75 GPM |
| Flow Coefficient (cv) | 6 (loop) |
| Max. Operating Temp. | 194 °F |
| Max. Operating Pressure | 145 Psi |
| | | | | | | | | |
| --- | --- | --- | --- | --- | --- | --- | --- | --- |
| Model Number | Loop Count | A | B | C | D | E | F | Weight lbs |
| XFM204 | 4 Loops | 17" | 21" | 7-¾" | 5-½" | 9-¾" | 2-⅝" | 19.5 |
| XFM205 | 5 Loops | 19-½" | 21" | 7-¾" | 5-½" | 9-¾" | 2-⅝" | 22 |
| XFM206 | 6 Loops | 22-¼ " | 21" | 7-¾" | 5-½" | 9-¾" | 2-⅝" | 24.5 |
| XFM207 | 7 Loops | 25" | 21" | 7-¾" | 5-½" | 9-¾" | 2-⅝" | 27 |
| XFM208 | 8 Loops | 27-½" | 21" | 7-¾" | 5-½" | 9-¾" | 2-⅝" | 29.5 |
| XFM209 | 9 Loops | 29-¾" | 21" | 7-¾" | 5-½" | 9-¾" | 2-⅝" | 32 |
| XFM210 | 10 Loops | 32-½" | 21" | 7-¾" | 5-½" | 9-¾" | 2-⅝" | 34.5 |
| XFM211 | 11 Loops | 35 " | 21" | 7-¾" | 5-½" | 9-¾" | 2-⅝" | 37 |
| XFM212 | 12 Loops | 37-½" | 21" | 7-¾" | 5-½" | 9-¾" | 2-⅝" | 39.5 |
| XFM213 | 13 Loops | 40" | 21" | 7-¾" | 5-½" | 9-¾" | 2-⅝" | 43.5 |
| XFM214 | 14 Loops | 42-¾" | 21" | 7-¾" | 5-½" | 9-¾" | 2-⅝" | 45 |
| XFM215 | 15 Loops | 45-¼" | 21" | 7-¾" | 5-½" | 9-¾" | 2-⅝" | 47.5 |
| XFM216 | 16 Loops | 47-¾" | 21" | 7-¾" | 5-½" | 9-¾" | 2-⅝" | 50 |